Printing & branding of RedX® products
RedX® guide to printing pop-up party tents, inflatables, flags & banners and other event equipment products

While some customers simply order our event products without printing in basic stock colors, many take advantage of branding and customization options. Our printing and branding service allows you to print logos, texts, specific colours or even photos in high resolution, not only on our RedX® pop-up party tents, but also on inflatable tents, inflatable arches, flags, banners, folding chairs, etc. Let your event equipment stand out - even a simple and affordable print will allow you to stand out from the crowd!

RedX® PROFI EXTREME pop-up 4.5mx3m with digitally printed roof and side
In this text, we will guide you through the basic information about the printing techniques of our products and the printing process itself. You can learn more about how to quickly and easily get a personalized pop-up party tent, inflatable tent, set of promotional flags and banners or other branded event equipment.
What are the types and techniques of printing we use?
We use two relatively widespread and common techniques to print our event products - heat transfer (vinyl ironing) and digital sublimation (digital printing into the fabric structure). We choose between these types of printing based on the following attributes:
amount of text, logos and other graphic features.

As already mentioned, we use two common methods. Here are the basic characteristics:
Heat transfer technique (vinyl ironing)
Heat pressing (ironing) vinyl is an easier and less costly way to make your trade show booth stand out from the crowd and send a clear signal to all passers-by about who you are (name, web address, logo) or what you offer and sell (product or service name). The process is simple - we first cut the logo or text from a roll of vinyl (this vinyl is available in a wide range of colors), and then heat press/iron the cut-out logo or text onto the already made roof or sidewalls of the pop-up tent in one of our standard stock colors.
We use this technique only to print the roofs, sidewalls and half-sides of our pop-up party tents and also to print the back or front of our popular folding director´s chairs.

Advantages of heat transfer (vinyl ironing)
Disadvantages of heat transfer (vinyl ironing)

Few examples of products with heat press vinyl printing option
Digital sublimation printing technique (printing directly into the fabric structure)
We use the most modern state-of-the-art MIMAKI digital printer for digital sublimation printing. It works similar to your printer at home (it´s just a little bigger). The fabric passes through this printer like a sheet of paper in your home printer and, on the other side, comes out with graphics printed directly into the fabric structure.
All products printed by digital sublimation begin life as a blank white fabric, which then passes through a digital sublimation printer. This printer prints 100% of the fabric surface, including the background colour. The resulting design does not impose any restrictions on quantity of logos/texts/images, complexity or colour - the entire design, including the background colour, can be configured based on your requirements.
Once the fabric itself is printed, we proceed to the actual sewing/producing of the final product (tent roof or sidewalls, flags, banners, inflatable tents, etc.).
This technique can be used to print the covers of our pop-up tents, flags, banners and inflatable tents and arches.
Advantages of digital sublimation (printing directly into the fabric structure)
100% of the surface is always printed.
doesn´t impose limits in the size or number of individual logos, texts, colours, high-resolution photos, etc.
the price is "fixed", it does not depend on the number of logos, texts, etc.
Disadvantages of digital sublimation (printing directly into the fabric structure)
more expensive compared to heat transfer (vinyl ironing).
production time is generally several days longer compared to heat transfer (vinyl ironing).

Few examples of products with digital sublimation printing option
How does the process of preparing the graphics and the printing itself work?
The process itself is very simple. We try to develop the smallest possible requirements for the customer, after obtaining basic information we take the initiative and offer a completely non-binding elaboration of graphic design and cost calculation. The whole process from the first contact to the production of your chosen product takes place in several steps:
Step no. 1 - contact us!
You can contact us by phone, e-mail or using our contact form and let us know if you have already selected a specific product, or if you just need advice for now - we will be happy to help.
Step no. 2 - Tell us your requirements and ideas. Choosing the most suitable product type and size.

To better understand your requirements, we´ll ask a few basic questions. We will start with the size and type of required product, ask about the intended use of the product, and try to advise the selection as best we can.

From a non-binding graphic design ... ... to the final product!
We will then turn to the questions concerning the printing itself. We will try to find out how you imagine the final appearance of the product. The better we understand your requirements and ideas, the easier it will be for us to prepare a basic non-binding graphic design. When printing our pop-up tents for example, we will probably ask about these attributes:
How many logos / texts do you want to print on the tent (or other product) and what should be their size?
Will you choose from our basic stock colours, or will we also print a specific colour shade of the background?
Where exactly do you want to place the print on the pop-up tent (or other product)?
The answers to these questions will help us understand our customer´s basic idea of the final product. From here we move on to the next step:
Step no. 3 - send us your logo or other graphic attributes (if you have them).
The next step is to send us any materials you have available - logos, texts, colour pantones, photographs, just about anything you have stored in digital form. No problem, if you don´t have these files, or if they´re in the wrong format - our graphic designers will help you design, edit, convert logos tot he correct format, or even completely redraw the logos. For a non-binding graphic visual design, we only need basic materials, for the printing itself we will prepare artwork in vector (outlines format).
What is the format of a vector (outlines) image and why do we need it?
The vector (outlines) essentially stores image as a mathematical formula. It does not work with pixels as a normal image format, but works with the outer edges (outlines) of the image and their coordinates. The image can then be enlarged to any size without loss of quality and sharpness, unlike pixel images.
Logos in vector format are usually in one of these four file formats:
PDF
AI (Adobe Illustrator)
CDR (Corel Draw)
EPS (Adobe Photoshop)
As already mentioned - if you do not have logos in these ideal formats, nothing happens at all - we will be happy to help with everything, redraw the logos and prepare them in ideal format.

From a non-binding graphic design ... ... to the final product!
Fonts and text:
If we print text (company name, website, phone number, etc.), you must tell us which font and font colour to use. We are happy to recommend a font style.
Pictures and photos:
If you require images or photographs printed on the surface of the fabric, we need them in the highest possible resolution. Ideally, it should be at least 300 dpi, but even that depends on your needs and the final size of these images.
Background colours:
If you require a specific background colour that is not one of our standard stock colours, you must provide us with a PANTONE, CMYK or RGB code. We can then print this background colour.
Step No.4 - preparing non-binding graphic design, visualization and approval.
Once we know exactly what you require and have all the necessary documents, we will start with a free and non-binding visualization of your design. We will prepare a 2D or 3D visualization to see exactly what your product will look like. Depending on the required design, we recommend one of types of printing: heat transfer (vinyl ironing) or digital sublimation (printing directly into the fabric structure).
Then we will make any required changes to the graphic design and as soon as you are satisfied and agree with the order, we will prepare everything for the printing (production) of your products.
We often charge for certain graphic tasks, for example when using the services of external graphics, which will design or completely redraw your logo to the required format. However, this is a relatively small investment, and we will also send you the resulting logo, it can then be used repeatedly for any other print or promo.
From a non-binding graphic design ... ... to the final product!
Step No.5 - let´s print and produce!
The final phase is the printing itself based on the visual agreed by you. The printing itself takes 10 to 14 days, depending on the type of printing and the complexity of the graphics. If it is an urgent order with a gallows deadline, we are usually able to speed up the whole process so that you have your tent or other product available for a trade fair, race or exhibition!
How much does printing/branding cost?
The price is always individual and depends on the following attributes:
amount of printing, size of logos and texts (in case of printing by thermal vinyl transfer).
printing technique (heat transfer vs. digital sublimation printing).
the size/type of the tent or other printed product.
print location (roof edge only, entire roof, side panels, etc.).
In other words, the price for printing is always prepared individually, based on the specifics of your order. We are happy to prepare individual price offers, please don ´t hesitate to get in touch with us!
Feel free to contact us with any questions. We will be happy to help and advise!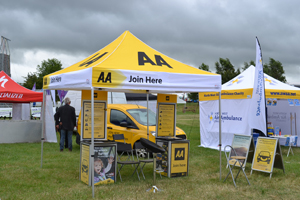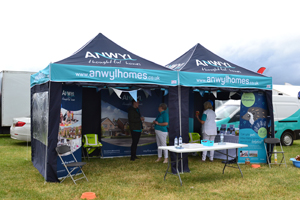 Available RedX® printed/branded products: