PROFI EXTREME 4,5m x 3m Pop-up party tent
ID: P0903004
Available colours
White
Racing Green
Navy Blue
Royal Blue
Red
Black
White/Racing Green
White/Navy Blue
White/Royal Blue
White/Red
Silver/Black
Silver/Yellow
White/Purple
Orange
RedX® PROFI EXTREME is a series of the strongest pop-up tents on the market, designed primarily for intensive professional use (trade fairs, catering, farmers' markets, motorsports, exhibitions, etc.). This type of tent offers absolutely unrivaled durability. The construction of PROFI EXTREME pop-up event tents achieves high strength thanks to vertical legs with a diameter of 58 mm, all joints made of cast alloy and massive scissor x-section alloy profiles. In addition, the alloy x-section scissor profiles are not hollow - they all contain internal struts (they increase the strength of the structure by approx. 30%). This pop-up tent comes with quality covers made of polyester with an inner coating of PVC (100% waterproof and fireproof material).

Why choose PROFI EXTREME tents?
Extreme strength and durability.
Fully professional tent for intensive use.
Solid aluminum construction with internal struts inside the aluminum scissor profiles.
Joints made of cast alloy.
Quality POLYESTER roof and sidewalls with inner PVC coating.
This is just a small list of the advantages of our PROFI EXTREME model of pop-up tents, thanks to which you can be sure that it will provide sufficient strength, simplicity and speed of construction, protection against adverse weather, professional presentation and with suitable printing also significant visibility.

RedX® PROFI EXTREME is a series of the most durable pop-up tents on the market (size 3mx3m and 6mx3m in the pictures).
Essential feature of PROFI EXTREME frame/construction: Internal struts inside the x-section scissor aluminum profiles

| | |
| --- | --- |
| The basic feature of any professional pop-up party tent should be sufficient strength and durability of the structure. Therefore, we add an internal strut to each x-section scissor aluminum profile that form the frame of the tent. This increases the already high overall strength of the PROFI EXTREME structure by up to a further 30%: | |
Buy RedX® pop-up tents with confidence!
WE GUARANTEE with every RedX® PROFI pop-up party tent:
Package contents of PROFI EXTREME pop-up party tent 4,5mx3m
4,5m x 3m solid aluminum frame/construction (PROFI EXTREME variant).
4,5m x 3m PROFI EXTREME roof (material: POLYESTER with inner PVC coating).
Optional (according to variants "with / without") full PROFI EXTREME set of 4 separate side panels (POLYESTER with inner PVC cover) - combination of 2 pcs of windows with internal roll-up closeable blinds (width 3m) and 2 pcs of roll-up extra wide doors that can be closed with quality zippers (width 4,5m).
Detailed specifications of the frame, roof and sidewalls of PROFI EXTREME 4,5mx3m pop-up tent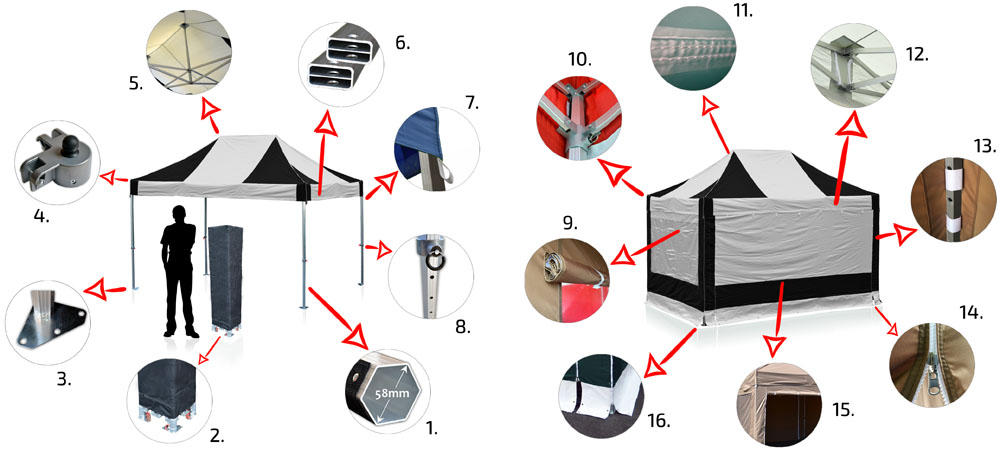 Key advantages of RedX® PROFI EXTREME pop-up party tents
1. Quality aluminum type 6061, hexagonal profile Ø 58mm

2.

FREE transport bag for construction/frame

3.

Large steel feet for anchoring the tent

4.

Joints made of cast alloy

5.

2x vertical struts with built-in springs

6. Internal struts in alloy x-section profiles

7.

Nylon eyelets in the corners of the roof for fixing NYLON ropes

8.

Adjustable height - 5x height positions

9.

Internal roll-up closeable window blinds

10.

Double layer of fabric in the corners of the roof

11.

Seams taped with TPU tape

12.

Double layer of fabric in stressed areas

13.

Double layer of fabric at the edges of the sidewalls

14.

Quality zippers for opening/closing doors

15.

Roll-up closeable wide door

16. PVC protectiv mudwalls at the bottom of sidewalls

Specification of RedX® PROFI EXTREME 4,5mx3m frame/construction
The construction is made of quality aluminum type 6061, hexagonal profile of the frame legs, Ø 58mm

.

Weight of frame: 52kg.

Each x-section alloy profile includes an internal strut/brace, increasing the overall strength and durability of the frame.


Height of the frame (structure) in the folded (unopened) state: 155cm

.

Joints are made of cast alloy ensuring high material strength.

These joints are almost indestructible.

5 levels of selectable height adjustment on each leg using a simple mechanism that releases the locking system in the joints by pulling the lock ring.

This is a higher quality, faster and more user-friendly variant compared to the more traditional "push button" method, in which the user's fingers suffer (apart from nerves).

Optional height of the lower edge of the roof´s valance: min.

190 cm - max. 220 cm

.

Optional height of the tent´s top itself: min.

323 cm - max 353 cm

.

Each leg is finished with an extra large steel "foot", providing stability to the structure.

The tent is also anchored through these feet

.

The whole structure is held together thanks to screws and locking nuts, which securely and firmly connect the individual parts of the structure

.

2x central vertical upright struts with built-in inner springs. Form the center of the structure and ensure ideal roof tension

.
Specifications of RedX® PROFI EXTREME 4,5mx3m roof

The roof is made of POLYESTER with an inner PVC coating, 100% waterproof. With fireproofness. The fiber density is 600D Denier

.


Weight of roof: 12kg.

The weight of the roof is 550g per square meter of roof area

.

Double layer fabric in particularly stressed areas (inner corners of the roof, etc.)

.

Velcro system for the correct tensioning and attachment of the roof to the aluminum structure

.

Double stitching in particularly stressed areas

.

Seams heat-sealed with TPU tape for 100% water resistance

.

Anchor loops on 4x corners of the roof edges to attach anchor ropes

.

Possibility of printing/branding the tent roof by the method of vinyl heat transfer or digital sublimation

.

Large selection of colour combinations

.
Specifications of RedX® PROFI EXTREME 4,5mx3m sidewalls
Printing, branding and colour swatches
Black / Green / White / Navy Blue / Red / Royal Blue / Silver / Navy Blue-White (on request) / Red-White (on request) / Royal Blue-White (on request) ) / Green-White (on request) / Silver-Black

Printing and branding

We offer an additional printing service for all RedX® pop-up party tents. We can print text, logos, specific colours, intricate graphic designs, and even high-resolution photos.
Depending on the complexity of the print, you can choose between:
a cheaper variant of thermal vinyl transfer (vinyl heat-pressing)




or professional digital sublimation printing (digital printing into the fabric structure)
Find out more information about printing and branding options on RedX® pop-up tents!

In addition, we offer a free and non-binding graphic design service. All you have to do is send us logos and tell us as much information as possible about the requirements. We will arrange the rest!
Our 4,5mx3m PROFI EXTREME pop-up tent "in action"
And what can your pop-up party tent look like in action? Perhaps like this:


Building a pop-up tent couldn't be easier
The frame/construction of our RedX® PROFI EXTREME tents has been honed over many years of experience so that the construction itself is an easy and fast affair even for one person. Although the tent can only be set up by one person, it is of course always easier to set up a tent for two.
If the tent is not transported and it is not handled lying down, it is possible to leave the roof permanently attached to the pop-up tent´s frame, which will significantly speed up the construction of the tent.
Putting up of tent in steps
Hold the frame structure by the side x-section profiles on opposite sides (by two people).

Lift the structure approx. 5 cm - 10 cm from the ground and gradually open the tent by walking back

.

Lock the corner sliding joints in place

.

This is followed by the extension of the telescopic legs of the tent to achieve the required height

.